Code-free software mashups
Widgets are the best way to quickly connect your external marketing tools to Group Texting without needing to know how to code. They're small applications that you can use in social media and on your website to make it easier to get the most out of your SMS marketing by collecting data to add directly to your Group Texting account. Make your website, Facebook and Twitter even more powerful by connecting them to the Group Texting platform.
Web Widgets
Use a web widget for easy audience sign-ups. You can place widgets on your website so that visitors can opt in to your SMS list just by typing in their phone number. You'll also have the option to use a special link that you can include in email blasts, creating another safe and easy way for users to sign up.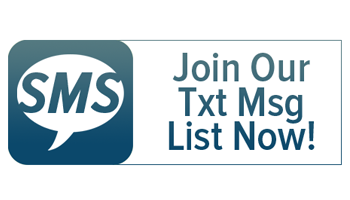 Facebook Signup Widget
Facebook is probably one of the easiest ways of creating a website for your business. Our Facebook widget lets you add a tab to your business' Facebook Page so that fans can opt in within a few clicks. So while you're promoting your Keyword on your Facebook page, remember to direct fans to opt in to your list! The widget makes it easy to keep it all connected.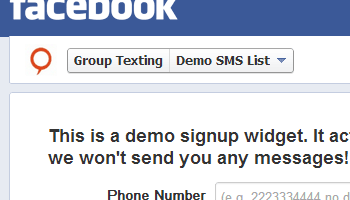 Twitter Integration
Our Twitter integration makes it easy to Tweet your message when you send it as a text from your Group Texting account. It's a quick way to get even more reach out of your text messaging campaigns, boosting the size of your audience by automatically sharing to Twitter. And if you mention your Keyword in your messages, it encourages new fans to opt in so that they can be added directly to your SMS list.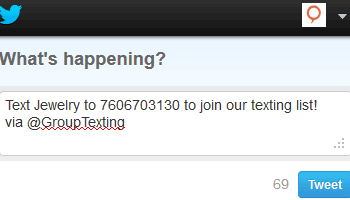 For more advanced integration, developers can check out our API.